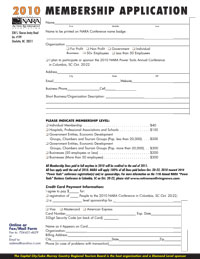 Membership Application (PDF)
Become a Member of NARA
Come be a member of the 11-year-old National Active Retirement Association (NARA) and enjoy these benefits:
15% Off Registrations to the Annual NARA Conference
Membership Listing on www.RetirementLivingNews.com website
NARA Referrals
Article Postings on NARA Website, www.RetirementLivingNews.com
Discounts on NARA Conference Sponsorship
Preference for Speaking Engagements
Use of NARA Logo on Your Marketing Material
Special Recognition to Help Your Business
Come join the Age Wave! The world is rapidly getting older and NARA is the networking and education hub to help your business succeed. Let us help you connect, promote and do more business!
ANNUAL NARA MEMBERSHIP FEE - $200.00